Linking To
The Twigg Studios Sunday Show Off
Sew Chatty Made With Love
5 Days 5 ways Feature Friday
Chicken Scratch Whats Cluckin 3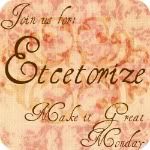 Here are some of my latest finished knitted projects. The pillow in front is a snuggle pillow I made for my husband because I originally made the large red one for him but he thought it was too big. He loves the smaller one he has put a pillow case on it to use now in the spring and summer.
This is the first pillow I made for dh it is now in the LR I stuff them with the stuffing from our old bed pillows... so there is a reuse factor to it.
This blue one is the first snuggle pilllow I made- for myself and I used it all winter long it is so warm and cozy to hug on at night.
The brown blanket I finished last year.
I am sure the dogs will learn to love the new knitted pillow
I need to make another one for the other side to balance things out.
This is the first blanket I made 4 years ago when I taught myself to knit I now know I did some things wrong but I think it is pretty darn good for a first project. I did it in lengthwise strips on 6in bamboo size 10 needles.
It resides in my ladies library Maggie uses it most lol
Working around the house today I found some more projects I finished up recently
This is a one sided blanket meaning it has a pretty side and a not so pretty side lol it is in 100% cotton and lives in a basket next to my dh's recliner he gets cold easy.
This is a closeup of the color and the boarder I did while knitting it
This is where it lives in the basket lol
And Maggie has claimed this colorful one as her own. I made it for my neice but found out she likes red and blue and not girly anything LOL so I had it laying around and one day it ended up in Mags' bed and she won't give it up not even for a picture. This yarn was originally $9.99 / little ball it is ribbon yarn and I got it on clearance at Hobby Lobby for .99c /ball and it really is that bright lol